Breathe clean with our innovative central air filtration system which will purify air in your entire home, office, or school throughout the day. This powerful system eliminates 99.97% of all airborne particles, leaving you only healthy, clean and fresh air. The HVAC air system would be a good option if you:
Already have a central air system in your home

You have an area to filter greater than 2,000 square ft.

You are concerned about viruses, bacteria and allergens in the air
Truly Clean Air
Our recommended system uses an 18-lb carbon filter that absorbs airborne chemicals, viruses, bacteria, noxious gases, and odors. The HEPA filter traps 99.97% of particles, even the smallest of particles (0.3 microns), which can be the most harmful of all!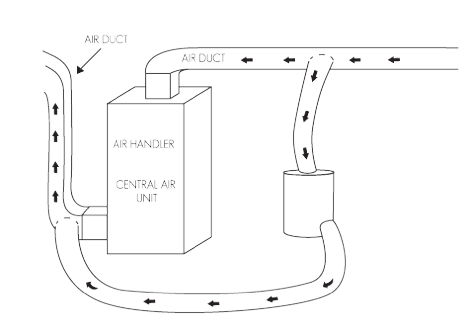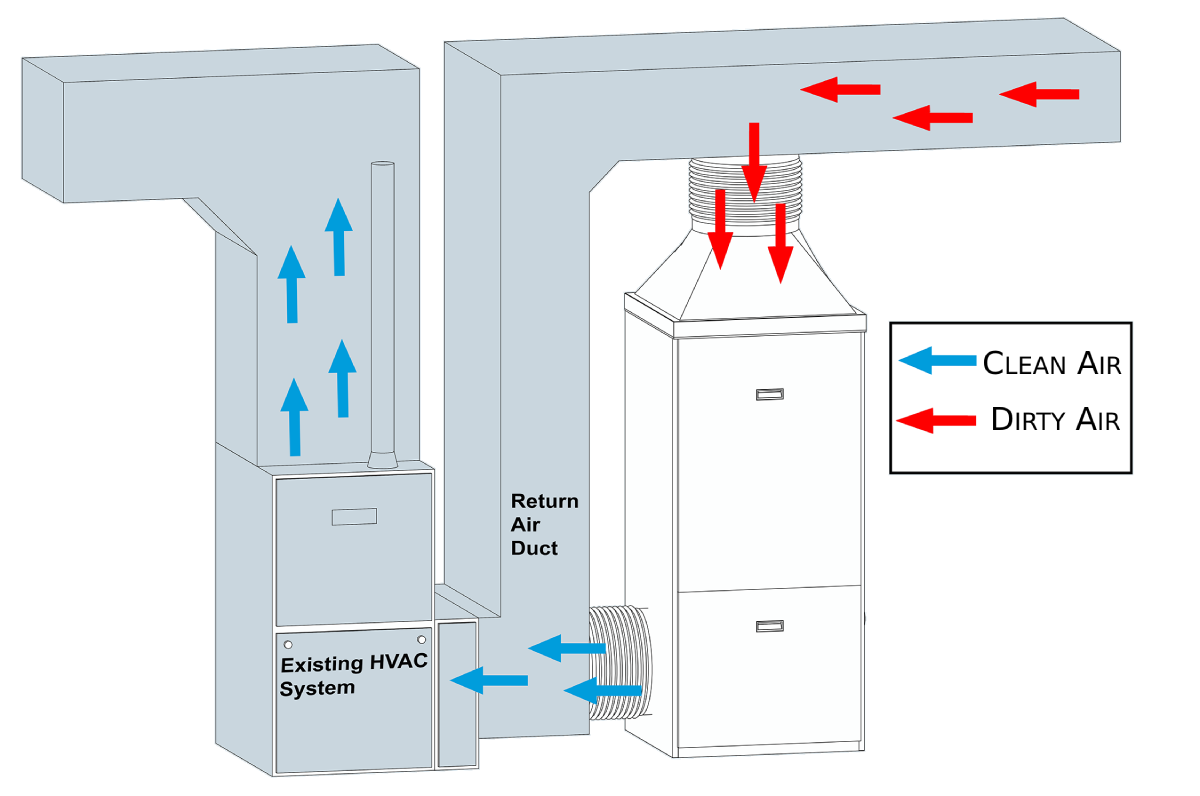 Clean Air Delivery
Clean air is passed through your home air purifier through the heating and cooling system and supplied back into your home free and clean of most contaminants.
Most of us consider good health a top priority.  However, we don't often think about indoor air quality. This benign neglect could put our health at risk. According to the Federal Environmental Protection Agency, the air inside can be, at a minimum, 2 to 5 times more polluted than outside.
An HVAC home air purifier can help promote better health by improving the air quality in your home and workplace. So, what exactly does a whole home air purifier do?
An HVAC Air Purifier = Fresh Air
While ordinary paper filters in many central air systems help remove dust from the air, these basic filters do not remove tiny particles that can harm your health. HVAC air purifier systems, which are installed in your ductwork, remove dust, mold, bacteria, and viruses from the air circulated throughout your space by your HVAC system.
How you benefit from an HVAC air purifier
Is the installation of an HVAC air purifier worth it? If breathing clean air is a priority for you, then it certainly is. For allergy and asthma sufferers and those with chronic respiratory problems, the installation of an air purifier should be an even stronger consideration.
Here are some of the things an HVAC air purifier can do for your home or business:
Trap bacteria and viruses to prevent the spread of germs and illnesses
Trap pet dander and other allergens
Block dust mites/dust
Remove dangerous volatile organic compounds from the air
Neutralize smoke from your fireplace or from smoked tobacco products
Remove unpleasant odors emanating from places like stoves, ovens, and trash cans
When should you consider getting a whole home air purifier?
Have you done your best to maintain a dust-free, clean environment but still suffer from allergies and other respiratory ailments? Consider installing an HVAC air purifier. If there is a smoker in the house, adding an HVAC air purifier would be a wise investment in your health. Minimizing exposure to the Covid-19 virus is also a wonderful benefit.
Businesses using volatile organic compounds (VOCs) are prime candidates for an HVAC air purifier (such as salons, furniture refinishing businesses, print shops, dry cleaners and auto body repair shops). Just about any business where cleaning chemicals or printers are used, there will be VOCs in the air.
Types of HVAC Air Filtration Systems
Not all home air purifiers are created equal 
HEPA
Carbon Activated Filter
Ultraviolet Light
Electrostatic Air Purifier
Ionizing Filtration
HEPA
HEPA (high-efficiency particulate air) filters are the most common filters found in HVAC systems. These filters trap larger particulate matter such as dust. These filters are rated on a numerical system: the higher the MERV rating, the better the filter is at trapping particles.
Carbon Activated Filter
Ultraviolet Light
Electrostatic Air Purifier
Ionizing Filtration
Complete Efficiency Services has been the premiere
choice for insulation in Abilene, Texas for over

30 years!
Patrick Walsh
July 25, 2023
Very fair and flexible with our schedule. On time and was very thorough
Todd Barnes
January 1, 2023
Great 👌
Ali Huffine
July 20, 2022
Very professional and quick response! I called multiple companies in the area and couldn't get anyone to return my calls. Complete Efficiency immediately answered and had someone at my house the next day! David was fantastic and incredibly knowledgeable. 10/10 service!
KB Massingill
November 1, 2021
I would recommend CES to anyone interested in having spray foam insulation installed. Our house is old and has multiple separate attic spaces. We had CES do one segment during a remodel and were so pleased that we called again and had them do the remaining two sections. The showed up as scheduled, were careful to seal off un-treated spaces, and got the job done quickly. We were genuinely amazed at the difference the foam made. The house is quieter, the attic is cleaner, and the temperature difference is amazing. We got several quotes, and went with CES and were glad we did.
Sami Honeycutt
June 21, 2021
Albert Noffsinger
August 5, 2020
The CES team did an excellent job on my 650 sqft building. The guys doing the work were very nice and helpful. They passed along several tips to help me paint the foam after they were done and saved me a bunch of time. Cannot wait to hire them again for another project I have coming up. Thank you CES team for making this easy. Fast and alot cooler to work out in a metal building.
Joseph Myrick
April 2, 2019
Dave came out and evaluated the efficiency of our attic insulation, and made some suggestions to help with monthly Electrical cost. His crew came out, and less than 1 day, fully insulated our Attic! I would highly reccommend Dave and His Company! We are already seeing energy savings!
Complete Efficiency Services are true professionals! After calling 8 companies to get quotes for spray foam estimates only 2 returned my calls. These guys took time to explain the process and were very upfront about the pricing. They showed up when they said they would and Danny the rig operator was SUPER professional and courteous! The metal building spray foam he did was timely and just as he would do it for himself, not cutting corners to save a buck. They have modern professional equipment and knowledge to get the job done right. I've had to use 100s of contractors during my Air Force career and these guys are on the top! It's hard to find companies that put this much effort into customer satisfaction and the job their doing. I would highly recommend them to anyone that wants true professionals to complete their work. After my experience with spray foam I will never use another product for my insulation needs this stuff is absolutely amazing and so is CES!